Dey Mansion / Washington's Headquarters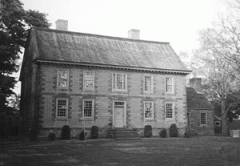 Constructed between 1740-1750 by Dirck Dey, a Dutch-born planter, the mansion is an amalgam of Dutch and English influences, a rich and dramatic composition of country and urban elements that had few mid-18th century counterparts west of the Hudson River. Dey, in all probability, left the completion of the mansion to his son, Theunis. During the Revolution, Theunis commanded the Bergen County Militia. Colonel Dey offered the easterly side of the house to General Washington when the commander-in-chief used it for his headquarters in July, October and November of 1780.
Succeeding generations of the Dey Family resided in the house until 1801, when it was sold to a private owner. In 1930, the now defunct Passaic County Park Commission purchased the Dey Mansion, together with several barns and 55 acres of land. A plan of restoration was developed under the direction of Charles OverCornelius who "was" a former Associate Curator of the Metropolitan Museum of Art and a recognized authority on early American architecture. The building was opened to the public on October 8, 1934. It is now managed by the Passaic County Parks Department. Located on a two-acre site, the grounds feature a formal garden and picnic area. Ample parking is available. Dependencies include a blacksmith shop and plantation house.
In 1969, the National Trust for Historic Preservation considered the restoration of Dey Mansion an "outstanding one." The Dey Mansion, a meeting place for several revolutionary war organizations, is the headquarters of the Robert Erskine's Militia, a reenactment group dedicated to recreating the military life of the events at the mansion. It is also the meeting place for such important and prestigious organizations as the Daughters of the American Revolution, the Sons of the American Revolution, the Children of the American Revolution and Colonel Pawling's Independent Corps Levies.