Dow Museum Of Historic Houses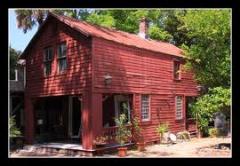 The nine houses in the Dow Museum of Historic Homes, dating from 1790 to 1910, are accompanied by five exhibit galleries that elaborate on the history of the area.
Old St. Augustine Village is a collection of nine historic houses spanning the period 1790 to 1910. Explore the five exhibit galleries nestled among the buildings' courtyards and gardens. Included in the 1572 town plan of St. Augustine, this city block contains an archaeological record of a sixteenth-century hospital and cemetery, an eighteenth-century Spanish Colonial defense line, and an early St. Augustine bridge, as identified by outdoor exhibit markers.
The grounds also include the site of the 1863 Emancipation Proclamation reading, which freed all slaves in Florida. The Village features the collections of museum benefactor, Kenneth Dow, and exhibits highlight St. Augustine and Florida history. Visit the Star General Store, which offers guests Florida gift items including books by local authors. One city block and four centuries of history, Old St. Augustine Village is the perfect place for visitors to begin their St. Augustine adventure.