Dumbarton House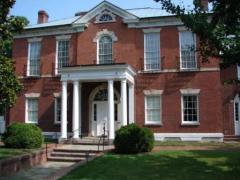 Dumbarton House is a fine example of Federal period architecture. Closely connected to the first years of the American Republic, the house has stood on the heights of Georgetown for over two centuries.
The property was built within a large tract of land patented in 1703 by an immigrant Scot, Ninian Beall (that would become Georgetown in 1751). This land was originally named "Rock of Dumbarton" in tribute to Beall's homeland.



In 1798 developer Samuel Jackson bought 4.5 acres of "Rock of Dumbarton" on Cedar Hill, and began to construct the home that he originally called Belle Vue or View. Jackson lived in the house for a few years before it was sold.



The house went up for public auction, and eventually was acquired by Joseph Nourse, first Register of the U.S. Treasury. Nourse completed construction of the home and he and his family lived at "Mr. Jackson's House," known as Belle Vue, from 1804-1813.



In 1813, the home was bought by Charles Carroll. On August 24, 1814, Carroll hosted Dolly Madison during her flight from the White House and British invaders.



In 1915, when the Dumbarton ("Q Street") Bridge was built over Rock Creek, the house was moved 100 feet to its present site, to allow for the extension of Q Street into Georgetown.



The National Society of The Colonial Dames of America (The NSCDA) purchased the house in 1928 and restored it to its early 19th-century character, changing the house's name to "Dumbarton House." The NSCDA declared Dumbarton House its national headquarters and opened it as a museum to the public in 1932.



Today Dumbarton House is one of the few stately brick homes in Washington to survive the heady days when the country and its capital were new. The design of the house reflects the shift from Georgian tradition to the Adamesque Federal style that would take hold as the new republic defined itself.



From the parlor to the dining room, through the music room to the bedrooms upstairs, visitors to Dumbarton House today see a wealth of furniture, paintings, textiles, silver, and ceramics that were made and used in the republic's formative years.