Durham Athletic Park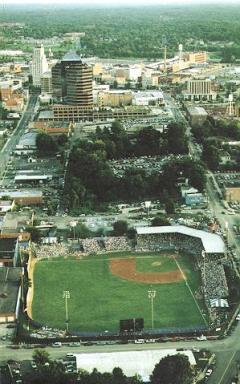 The Durham Athletic Park, known to local fans as "The DAP", was constructed in 1926 as the home ballpark for the Durham Bulls, a minor league franchise, who had been playing at Trinity College (now known as Duke University). An homage to the team name, it was first called El Toro Park before changing its name in 1933. The Bulls played in the Piedmont League from 1920 to 1933, when the Great Depression forced many baseball clubs to suspend operations.
Tragically in 1939, a fire burned down the wooden grandstand, forcing the Bulls to construct makeshift bleachers until a new, metal grandstand opened on April 7, 1940. The Durham Bulls encountered financial swings that forced the team to disband in the 1970s, but became internationally famous after the 1988 release of Bull Durham, a romantic comedy about minor league baseball, filmed at Durham Athletic Park. With the instant fame the Durham Bulls became a Triple-A affiliate of the Tampa Bay Rays, forcing them to move away from "The DAP" into a larger facility.