Edinboro Area Historical Society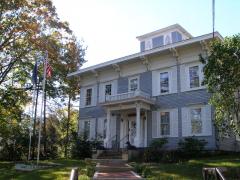 The property where the house stands was purchased by John B. Clark before 1850 as part of tract 428 on the then "new road" running from Culbertson's Mill to French Creek and on to Meadville. By 1867, with the completion of the Route 99 road, it became a quiet side street. Lewis Culbertson built this house in the typically Italianate style in 1861. In the 1876 Atlas of Erie County is is described as one of Edinboro's finest homes and identified as the residence of M. M. McClaughry who had purchased the property in 1867.
As one of Edinboro's earlier settlers and a local business man, McClaughry and his first wife raised six children in the home. It stayed with various family members until 1921 when the house was deeded to J. Morrison Reeder. When Mr. Reeder moved from the area, the house was rented to a number of individuals and began to deteriorate. Aimee Doucette purchase the house in 1933. He and his wife Edith raised their seven children, followed by their daughter Aimee and her husband Richard Rodak. They occupied the house with their five children through the 1970's.
In 2001, Forrest Doucette approached the EAHS with the idea of donating the House to be used as headquarters of the Society. Today, the renovation of the House is proceeding ahead and a Capital Campaign is being established to maintain the House for the future of Edinboro. Forrest & Ed Doucette have given generously since the beginning to initiate repairs, while the Community have donated their valuable time and resources towards the project.