Emily Dickinson Museum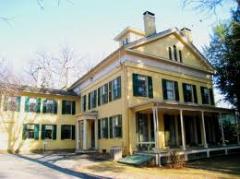 Emily Dickinson's troubled life and influential work are chronicled at the Emily Dickinson Museum located in The Homestead, the house in which Dickinson spent both her childhood and the years leading up to her untimely death.
The Emily Dickinson Museum consists of two historic houses in the center of Amherst, Massachusetts, closely associated with the poet Emily Dickinson and members of her family during the nineteenth and early twentieth centuries. The Homestead was the birthplace and home of the poet Emily Dickinson. The Evergreens, next door, was home to her brother Austin, his wife Susan, and their three children. The Museum is dedicated to educating diverse audiences about Emily Dickinson's life, family, creative work, times, and enduring relevance.