Ernest Hemingway Birthplace And Museum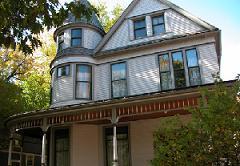 The Ernest Hemingway Birthplace Home is a large Victorian home built by his maternal grandparents that has been meticulously restored to its Turn-of-The-Century grandeur. One of the greatest writers of the 20th Century, Ernest Hemingway was born on July 21, 1899, and spent the first six years of his life in this grand house surrounded by his family.
Just a short walk from the birthplace, the Ernest Hemingway Museum is host to permanent and temporary exhibits that explore the author's life. Kiosks fashioned from historic doors hold exhibits of rare photos and artifacts, including Hemingway's childhood diary and the famous letter from nurse Agnes von Kurowsky-later portrayed in A Farewell to Arms-terminating their engagement.