Essex Historical Society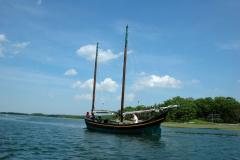 Initially, Hill's Academy served as the main focus of the society for it was both a "home" and a museum" having been purchased from the Town of Essex in 1955. In The Society for the Preservation of New England Antiquities (SPNEA) turned Pratt House on West Avenue in Essex over to the Essex Historical Society in 1985. This transaction included almost 2 acres of land as well as many artifacts. This was already an operating museum and has carried on as such since. The acquisition of this valuable property firmly established the reputation and significance of the society. An added advantage is its location, which is literally in the "back yard" of Hill's Academy.
The Essex Historical Society has always concentrated on the presentation of a variety of public programs, usually in the Essex Town Hall. These cover a relatively broad range of subjects, but a focus on local history always draws the most interest.