Fairfax Stone State Park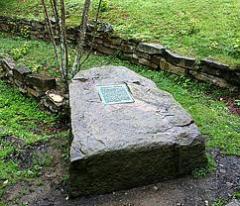 The Fairfax Stone is one of the oldest markers in the United States.  It marks marks the boundary between Maryland and West Virginia, the headwaters of the Potomac River, and the junction of Grant, Preston and Tucker Counties.
Fairfax Stone State Park, a 4-acre West Virginia State park, is located just off of Route 219 about four miles north of Thomas, WV.
In 1681, King Charles II of England gave Lord Hopton a 6-million-acre tract of land lying between the Rappahannock and Potomac Rivers. The land eventually descended to Thomas, Lord Fairfax, Sixth Baron of Cameron, who petitioned King George II to survey his vast estate in 1733.
Finally in 1746, the original Fairfax Stone was placed to mark the "believed" headwaters of the Potomac River, delineating the once disputed boundary between West Virginia and Maryland.