Fairmount Water Works Interpretive Center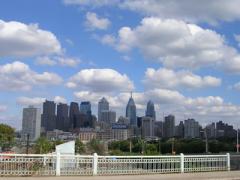 Through its detailed and faithful picture of watershed use, the Interpretive Center shows that our needs have scarcely changed in 200 years.
"Water in Our World" is the theme that unites all the exhibits at the Fairmount Water Works Interpretive Center. The mission of the Center is to have its visitors reflect upon the interaction of people and the environment. To do that, the Center focuses on the Schuylkill River, vividly illustrating the results of human actions, good and bad.
Each exhibit invites the visitor to participate in learning about aspects of that theme with bold graphics and compelling images, such as old photographs, watershed diagrams and illustrations of the many uses of water.
The Interpretive Center is housed within the Fairmount Water Works, a complex of graceful neo-classical buildings nestled beside the Schuylkill River. Besides the exhibits, visitors to the Interpretive Center will also enjoy programs, several river balconies and an esplanade that shows the relationship between humans and the Schuylkill River over the centuries.