Falcon Rest Mansion & Gardens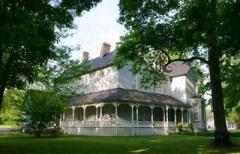 This 10,000-square-foot mansion, built by entrepreneur Clay Faulkner in 1896, included luxurious "modern conveniences" such as electric lights, indoor plumbing, and central heat.
The mansion is open daily for individual and group tours that bring elegance and the optimism of the 1890s to life. That retreat to the 1890s can be extended with a stay in one the overnight guest suites on its grounds.