Ford's Theatre National Historic Site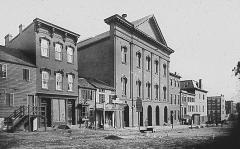 In 1861, theatre entrepreneur John T. Ford leased the First Baptist Church and converted it into a music hall. "Ford's Athenaeum" grew in popularity and was poised for tremendous success when the building was tragically destroyed by fire. Undaunted, the entrepreneur immediately began reconstruction and opened Ford's "New Theatre" in August 1863, at the height of the Civil War.
Less than two years later, on the evening of April 14, 1865, tragedy struck once more when President Abraham Lincoln attended a performance of Our American Cousin at Ford's Theatre. John Wilkes Booth, a former actor with Confederate ties, stepped into the Presidential Box and fatally shot the President, plunging the nation into mourning and the Theatre into darkness for over one hundred years.
Following Lincoln's death, the public demanded the closure of the Theatre, threatening the building with destruction and its owners with bodily harm. For almost ninety years, Ford's Theatre no longer functioned as a theatre, but instead served intermittently as a museum, office space and storage facility.
In 1954, President Dwight D. Eisenhower signed a Congressional act to restore the Theatre, and reconstruction began ten years later. Frankie Hewitt, who had lobbied to have the Theatre restored to its former glory, founded the Ford's Theatre Society, a not-for-profit organization with the sole rights to produce within the space. Due in large part to her extraordinary efforts, Ford's Theatre reopened in 1968 as both a historic site and working theatre, and has since presented more than two hundred plays, musicals and special events.