Fort Benton Historical Complex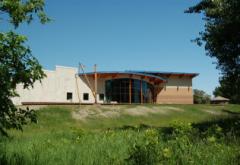 On the banks of the Missouri River, in the city park, stands a square bastion and fragments of the walls of old Fort Benton. The ruins of this old American Fur Company post forms one of the points of greatest historic interest to be found between the Mississippi River and the Pacific coast. Established in 1846 when work on the foundations began, the Fort opened for trading the spring of 1847. Like all the other trading posts of this region, Fort Benton was built in a quadrangle. It was over 150 feet square exclusive of the 20-foot square two story bastions. Portholes in the bastion walls for both cannon and riflemen commanded a shooting range on all four sides of the fort. An adobe wall fourteen feet high connected all the buildings and enclosed the quadrangle. By 1865 the fur trade was dead and the American Fur Company sold the fort to the military, ending its control of the Upper Missouri.
The fort had already begun to crumble when the military finally occupied it in 1869. In 1875 the military abandoned the fort and for the next few years private families occupied its buildings. Finally abandoned by all but the rats in 1881, the buildings continued to deteriorate and gradually collapsed. By 1900 only the crumbling northeast bastion remained of the most important fur post during the final years of the fur and robe trade. In 1908 the Daughters of the American Revolution with donated funds and $1500 received from the Montana Legislature took it upon themselves to rescue this last remaining structure. The oldest building in Montana is still standing today because of their efforts.