Fort De Chartres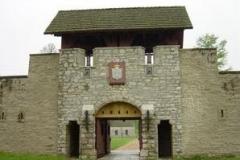 This site marks the location of the last of three successive forts named "de Chartres" built by the French during their eighteenth-century colonial occupation of what is today Illinois.
This fort served as the French seat of government and its chief military installation in the Illinois Country. In 1763 France ceded much of its territory in North America, including Illinois, to Great Britain. British troops occupied the fort from 1765 until 1772, when encroachment by the Mississippi River caused a collapse of the south wall. Subsequently, the remaining walls and buildings fell into ruin. The site features an imaginative reconstruction of portions of the third Fort de Chartres. The fort gate, built in the 1920s, has been remodeled several times. Portions of the fort's walls were reconstructed on original foundations in 1989. The site was declared a National Historic Landmark in 1960 and was added to the National Register of Historic Places in 1976.
The site hosts a number of special events, including the "Fort de Chartres Rendezvous" held in June, the "French and Indian War Winter Encampment" in February, "Kids Days" in May, the "French and Indian War Assemblage" in September, "French Colonial Crafts and Trades" in October, and "La Guianne" in December. Contact the site for details.