Fort Gaines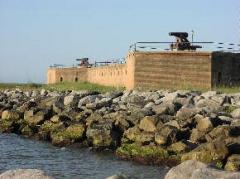 Most of the work on the fort was completed by 1861. The outbreak of the Civil War then left the remainder of work to the Confederate States of America, which added the last touches by 1862. The role of Fort Gaines in the Battle of Mobile Bay, one of the wars most notable naval conflicts, is detailed on the inside and rear covers of this brochure. In 1898 the fort was further modified as a result of the Spanish-American conflict. Three 6-inch disappearing naval guns and three rapid fire 3-inch naval guns were emplaced. Concrete gun mounts and ammunition magazines were added to the easterly walls, which eliminated the corner bastions and rain catches and blocked off the tunnels there. The gorge bastions, or corner blockhouses, are intricate structures designed to serve a dual purpose.
In addition to the cannon ports situated in the side walls to guard the approaches to the walls, the entire roof area of each bastion also held a pattern of catch basins for rain water. The water was strained through a bed of shells and sand and carried to several large cisterns beneath the floors and in the yard. The bastions are connected to the courtyard by long arched tunnels which also provide access to the gun ports in the outer walls. The gorge bastions are inspiring examples of the detailed workmanship that went into the fort construction. The northwest bastion is preserved in its original condition. The bricks used in construction were made by slave labor on Dog River, twenty miles to the north, then barged to the site.
The intricate masonry, all without keystones, shows the detail and knowledge of symmetry the early brick craftsmen applied to their work. Outside the walls in an area to the northwest, 500 feet distant from the entrance, an array of buildings was constructed, including a sutler's store, carpenter shop, blacksmith shop, lumber shed, stable, storehouse, kitchen, mess hall and several small utility buildings. Directly in front of the gate stood a barracks for troops. Following the Civil War, a bill was introduced in Congress calling for the establishmentof a U.S. Naval Academy on Dauphin Island, but was defeated. The fort served in World War I with a Coastal Artillery unit garrison manning the disappearing guns.
The site also became an anti-aircraft gunnery school during and following the war. World War II saw the fort used as a camp site for the Alabama National Guard and a base for the U.S. Coast Guard stationed there to operate against enemy submarines prowling the gulf in search of merchant vessels. Presently the Coast Guard uses its base there to take part in crash rescue boat operations.
The United States sold Fort Gaines to the City of Mobile in 1926. The city in turn gave the property to the Alabama Department of Conservation, which deeded it to the Dauphin Island Park and Beach Board.