Fort Lee Historic Park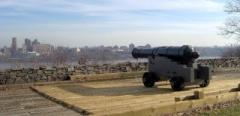 In the southern portion of the Historic Park, winding paths lead past a reconstructed blockhouse and to the historic section of the grounds, with reproduction gun batteries and firing steps. Opposite the barbette battery, authentically reconstructed eighteenth-century huts, with a well, woodshed, and baking oven, serve as the focal point for interpretive programs.
The Visitor Center is at the heart of the Historic Park, providing information on the role of Fort Lee in the American Revolution. Two floors of displays present the story of how General Washington was forced to evacuate the area in November 1776 and lead his famous "Retreat to Victory" across New Jersey at the end of 1776.
Weekend and Summer programs are available onsite for school aged children.