Fort Meigs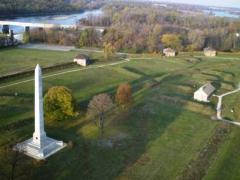 This site is a reconstruction of an important American fort that withstood a British siege during the War of 1812.
In February 1813, American soldiers under the command of William Henry Harrison began building Fort Meigs to protect against invading British forces. Upon completion, the structure was the largest wooden fortification in North America.

The British Army laid seige to the fort on May 1, 1813. American forces under Harrison held out successfully, and the British lifted the seige on May 9. Two months later they attempted another unsuccessful seige. After this second attempt, the British withdrew from the area and Harrison ordered the fort dismantled.

Today, a reconstructed fort and museum help bring history alive. Fort Meigs is one of fifty-eight sites within the Ohio Historical Society. Along with school tours and interactive displays, a number of reenactments and special events take place here throughout the summer.