Fort Ridgley State Park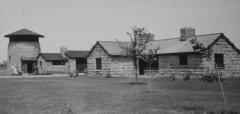 In the spring of 1853, the steamboat West Newton left Fort Snelling to journey up the Minnesota River, bound for a plateau above the river in Nicollet County. The steamboat carried soldiers and their families, carpenters, and supplies. The people were assigned to build a fort at the edge of the Dakota reservation. The fort was named "Ridgely" in honor of three men of the same name who had died during the Mexican War. Fort Ridgely was complete by 1855. Before long, Fort Ridgely developed into a self-sufficient community populated by 300 soldiers and civilians.
The Fort played a role in the U.S.-Dakota Conflict of 1862 when it was attacked twice by Dakota Indians. After Fort Ridgely closed in 1872, local farmers used the buildings. The first purchase of land for the park occurred in 1896 as a war memorial to those who fought in the U.S.-Dakota Conflict. More acres were purchased in 1911 when the site was designated a state park.