Fort Sumter National Monument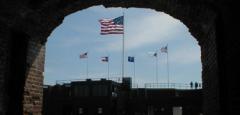 Decades of growing strife between North and South erupted in civil war on April 12, 1861, when Confederate artillery opened fire on this Federal fort in Charleston Harbor.
Fort Sumter surrendered 34 hours later. Union forces would try for nearly four years to take it back.
At the Fort Sumter Visitor Education Center, extensive museum exhibits tell the story of growing sectionalism and strife between the North and the South, and how these problems ultimately erupted into civil war at Fort Sumter.
At the Fort Sumter museum, exhibits tell the story of the construction of the fort and island, the events leading to the April 1861 battle, the subsequent bombardment of Fort Sumter by artillery, and the Fort's history through the present day.
Fort Sumter is a designated historic site, so recreational activities are limited to passive pursuits such as scenic viewing and bird watching.