Fort Vancouver National Historic Site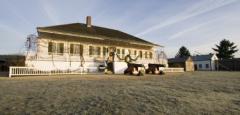 Fort Vancouver NHS and the McLoughlin House unit offer a variety of opportunities for people of all interests and ages.
Whether you prefer a solitary walk along a shaded historic pathway, the company of thousands of people at a special commemorative event, or an activity somewhere in between, Fort Vancouver NHS hosts many diverse activities and programs from which to choose.
The fort quickly became a center of activity and influence, supported by a multicultural village with inhabitants from over 35 different ethnic and tribal groups. The first hospital, school, library, grist mill, saw mill, dairy, shipbuilding, and orchard in the region were all centered at Fort Vancouver. The fort also served as the early end of the Oregon Trail for American immigrants, and later became a U.S. Army post. Today, demonstrations, exhibits, and archaeology digs help visitors connect to the site's people, stories, and resources.
The McLoughlin House, in nearby Oregon City, Oregon, was added to the National Park System in 2003 as a unit of Fort Vancouver National Historic Site. The house is restored to help recognize the life and accomplishments of John McLoughlin, the "Father of Oregon." The site also includes the home of the family of Dr. Forbes Barclay, a Hudson's Bay Company associate and early Oregon City civic leader.