Fort William Henry Museum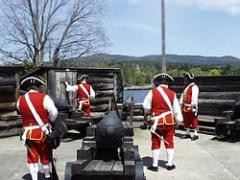 Site of the infamous "Fort William Henry Massacre," the reconstructed fort displays military artifacts from the French and Indian War.
Built in 1755 during the French and Indian War as a staging point for sorties against French Fort Carillon, the British stronghold fell to French forces in 1757 and was destroyed. The subject of Cooper's The Last of the Mohicans, the battle ended with the murder of some surrendered British soldiers by Native Americans. Rebuilt for tourists in the 1950s, the fort devotes three barracks to the exhibition of artifacts from the on-site archaeological excavation. Guided tours and living history events offer children the opportunity to wear 18th-century-style uniforms and participate in military drills.