Friends Of The Mansfield Battlefield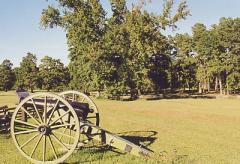 Shreveport was the Confederate capital of Louisiana, a busy river port with an active cotton economy, the site of military industry, including ship and submarine construction, and the head of the Texas Trail. The capture of Shreveport would have allowed Union forces to enter Texas and crush the supplies moving from Texas, Mexico and western points to supply Confederate forces in the east. The Battle of Mansfield saw the defeat of Union forces under the command of General Nathaniel Banks by Confederate forces commanded by General Richard Taylor. It was the last major Confederate victory of the Civil War.
Today, the Mansfield Battlefield is under siege. The tranquil countryside and the historic site at Mansfield have suffered from years of neglect and, without a doubt, the state budgets have been inadequate to fund and preserve the historic past and the hallowed ground. The years of neglect are benign compared to the current assault on the battlefield—a power company's lignite mining that gobbles up this battlefield with two dragline buckets scooping up soil equal to the volume of a three-bedroom home.
The lignite mine threatens important sites on the battlefield, having had free reinof the area for more than a decade. The Dolet Hills Mining Venture is being operated by AEP-SWEPCO, an affiliate of the national energy giant headquartered in Ohio. We seek to encourage them to preserve areas that have been identified as important as the story of history is being told today and to future generations.