Friends Of Wilderness Battlefield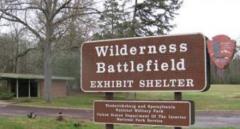 The Friends of Wilderness Battlefield was formed from a group of ten residents of Spotsylvania and Orange Counties, Virginia in 1995. Since that first meeting of ten individuals on September 23rd 1995, the Friends group has grown to a membership of 218 across the United States.
The Fredericksburg and Spotsylvania National Military Park, which includes the Wilderness, Chancellorsville, Fredericksburg, and Spotsylvania Court House Battlefields, is the largest national military reserve in the world. Four major Civil War battles took place on overlapping grounds in 1862, 1863, and 1864. However, the area is also rich with development that threatens these hallowed grounds. FOWB conducts tours of the battlefield and televises a seminar of the Battle of the Wilderness. Bus tours and history programs are also sponsored by this organization. In local libraries, Civil War living history interpretations are available for interested visitors.