Furnace Town Living Heritage Museum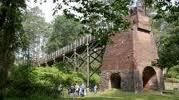 The restored furnace and buildings of the 19th century village, Furnace Town, provide visitors with a living history of the community.
The Nassawango Iron Furnace was started in 1829 near Snow Hill, MD. The Village of Furnace Town developed in support of smelting iron. Today the Living Heritage Museum is a view of the village as it was then.
The furnace produced pig iron from 1831 until 1850. For a while the furnace flourished and became a center of commerce for the area. The surrounding village of about 300 men, women and children was self-supporting and included a post office, church, boarding house and Company Store. In addition to ironworkers, many skilled artisans were employed either by the Furnace Company or in the service of the town. Unfortunately, better iron ore was found in the Great Lakes area and coke replaced charcoal as fuel. As desirable raw materials moved west, Furnace Town could not compete and went into bankruptcy in 1850.