Gatekeeper's Museum/Marion Steinbach Indian Basket Museum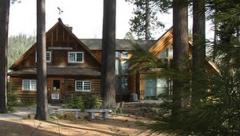 The Gatekeeper's Museum is a reconstruction of the original Gatekeeper's Cabin – home of the water master who controlled the flow of water out of Lake Tahoe. Exhibits include Native American baskets, resort memorabilia, historical photographs, clothing, oral histories, maps, archival documents, newspapers and artifacts.
The Marion Steinbach Indian Basket Museum has amassed a world-class collection of over 800 utilitarian and fine baskets from 85 tribes throughout California and western North America. In addition to collecting baskets, Marion also collected Native clothing, jewelry, tools and pottery. Pottery from Maria Martinez is featured in the collection.