General Lew Wallace Study And Museum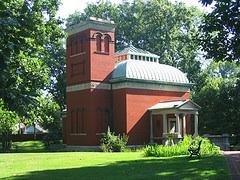 General Lew Wallace's study is a separate standing building that was constructed fifty yards north of his residence in Crawfordsville, Indiana. The study was built between 1895 and 1898 and cost the then remarkable sum of $30,000. The limestone frieze that wreaths the study contains four faces, one on each side of the building. The faces represent characters from Wallace's novels Ben-Hur and The Prince of India, with the face Wallace approved for Judah Ben-Hur carved over the entrance to the study.
Today, Wallace's study sits on 3.5 acres, which is entirely enclosed within a brick wall, which was an addition after Wallace's lifetime. The General Lew Wallace Study is now a museum containing artifacts that chronicle every aspect of his varied life. However, the study grounds are an idyllic location for a picnic, stroll, or to relax with a good book.