German American Heritage Museum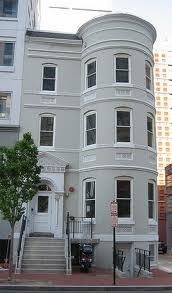 Opening on March 21, 2010, the German-American Heritage Museum of the USA will tell the story of all Americans of German-speaking ancestry.
As the newest addition to the museums of downtown WashingtonDC, the German-AmericanHeritageMuseum seeks to champion the story of the single largest ethnic group of immigrants in the United States. With its central location in Washington, the home of the museum serves as a historical setting of German-American immigration itself. Built in 1888 by John Hockemeyer, a German immigrant who became a successful merchant, the townhouse is part of the Penn Quarter, a historic settlement of Germans in the nation's captial.
The HeritageMuseum's mission is to collect, record, preserve, and exhibit the rich cultural legacy of German-Americans. It will be a place for continuing discussion, study and development of ideas about Germans, Swiss, and Austrians, their heritage, their values, and their future.
The HeritageMuseum will present permanent exhibits featuring German immigration and migration across the UnitesStates and famous German-Americans, as well as smaller, temporary exhibitions. In addition to the exhibition spaces, the auditorium with seating for up to 70 people will be a venue for lectures, multimedia presentations and small conferences. A Multimedia Kiosk in cooperation with the German embassy in Washington, Deutsche Welle and the German National Tourist Board will inform the visitors about Germany as it is today. Educational programs designed for students of multiple age groups will complete the HeritageMuseum's programs and allow visitors to delve deeper into the subject of German immigration to the United States. Along with the collections, the museum will feature an oral history research project seeking to collect audio-visual testimonials of Americans of German descent.
The Museum is located across the street from the VerizonCenter and can easily be accessed with Washington's public transportation system. Red, Green, and Yellow line: Gallery Place-Chinatown.
Find us on Facebook: http://www.facebook.com/GAHMuseum
Follow us on Twitter: http://www.twitter.com/GAHMuseum