Germantown Historical Society Museum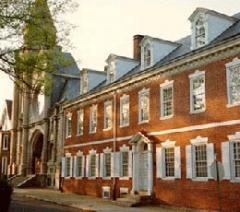 Germantown's story is the story of founding and settlement, religious freedom and tolerance, patriotism, abolitionism, architectural excellence, industry, and community service. Come to GHS and learn about the first German settlement in the New World, the nation's earliest "urban village," the site of the first written protest against slavery, the setting for the Battle of Germantown, the nation's first commuter suburb served by one of the nation's first railroads, and then the "town within a city" served by the longest streetcar line in the nation. Visit other sites to learn about the Victorian Age, the Underground Railroad, and, yes, a place where George Washington really did sleep. Discover why thousands of Irish, Italians and African Americans made German Township their home.
A new exhibition highlighting the Society's vast collection of period domestic objects, including furniture, silver, pottery, porcelain, tableware, kitchenware, personal hygiene items, needlework, and children's games & toys is on display. The exhibit provides a vivid picture of what it was like to live in Germantown years ago and how people worked, relaxed and entertained in the home.