Governor Ross Mansion And Plantation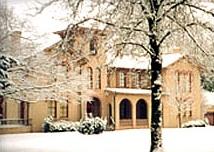 This home belonged to William Henry Harrison Ross, who was the Governor of Delaware from 1851 to 1855. And although he was instrumental in bringing a railroad connecting to Philadelphia to southern Delaware, when the Civil War began, he was forced to flee to England when Delaware remained with the Union, as Ross was a Confederate sympathizer. He left behind this home which serves as a reminder of the antebellum period.
The home itself is a restored, 3-story Italian-style Victorian home. The site also has the only still-standing slave quarters in the state of Delaware.