Gratz Park Historic District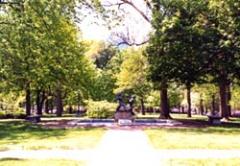 The Gratz Park Historic District is one of the most beautiful areas in downtown Lexington, comprised of a city park and several large residences. In the words of Kentucky architectural historian Clay Lancaster, "the park has charm, atmosphere, a sense of tranquility and of history, and it provides an oasis of planting tucked into the cityscape." Gratz Park occupies a tract of land that was established in 1781 outside of the original boundaries of Lexington when the town plat was prepared that year by order of the Virginia Assembly. In 1793 the park was purchased by the Transylvania Seminary as the site for its Lexington campus. In 1816 a large three-story structure (see historic image below) was built in the center of the park to serve as the main building for Transylvania Seminary. Designed by Matthew Kennedy, Lexington's first architect, it was erected near the center of campus. Following the destruction of that building by fire in 1829, the Transylvania campus was moved across Third Street to its present location. Only one building from this original campus remains--the Old Kitchen Building. Now, grand 19th-century townhouses built for Lexington's prominent and wealthy characterize the district.
Gratz Park is named after early Lexington businessman Benjamin Gratz whose home stands on the corner of Mill and New streets at the edge of Gratz Park. Typical of residences in the district are the three consecutive row houses along Mill Street (239-247) erected by Mrs. William Cassius Goodloe, widow of a former U.S. Ambassador to Belgium, around 1901. At the northern edge of the park is the "Fountain of Youth," built in memory of Lexington author James Lane Allen using proceeds willed to the city by Allen. The park was deeded to the city of Lexington during the mid-20th century and is still used as a public park today. It is a wonderful place for a picnic or to examine the beauty of this historic district.