Grinnell Historical Museum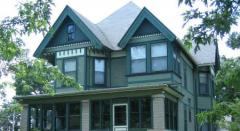 Ever since its establishment, the museum has been a collective effort. For women's groups, two chapters of the DAR, the Historical and Literary Club, and the Tuesday Club, offered to create this museum for community development.
The museum has recreated an authentic atmosphere of Victorian family living. Displays are of interest to visitors of all ages. The kitchen holds an electric refrigerator made by the Grinnell Washing Machine Company, one of the first 50 made in 1932. There is a Military exhibit with uniforms from the Civil War to the Vietnam war. The Carriage House holds several horse-drawn vehicles built by the Spaulding Carriage Factory in Grinnell.