Hampton National Historic Site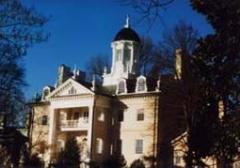 Hampton is the story of people -- enslaved African Americans, indentured servants, industrial and agricultural workers, and owners. It is also the story of the economic and moral changes that made their lifestyles obsolete.
There is a tour of the mansion every hour, a 40 minute presentation of the grounds including a slaves quarters, and self-guided explorations of the farm (including the farmhouse on weekends), as well as of the gardens, grounds, stables, and family cemetery. The site also gives special events to tell a rich history of its former inhabitants.