Hancock Shaker Village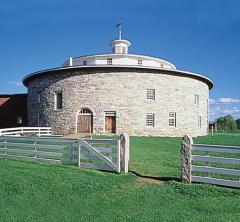 The Shakers trace their beginnings to Manchester, England, in 1747. They called themselves The United Society of Believers in Christ's Second Appearing. They soon became known as Shakers because of the trembling, whirling, and shaking that affected them during their spiritually ecstatic worship services. As Millennialists, they believed that Christ's second coming was realized in their leader, Ann Lee, whom they called Mother Ann. Misunderstood and persecuted in their native England, the Shakers nonetheless gathered a small group of enthusiastic followers to their new Christian lifestyle and beliefs.
This beautifully restored village, set amongst acres of farm, woodland and pasture, is home to the premier collection of Shaker buildings and artifacts. Graceful Shaker furniture, craft and household items are exhibited in 20 historic buildings, each an architectural gem. The Round Stone Barn, most famous of all Shaker buildings, is a testament to Shaker efficiency, innovation and design.
See the Village come to life through tours, exhibitions, demonstrations and participatory activities. Talk with artisans working in authentic Shaker shops. Learn about the heritage breed animals that roam the pastures and the heirloom crops in the gardens while soaking up the beauty of Shaker architecture. Sing along to "Simple Gifts." Your children can even take a lesson with a "Shaker" schoolteacher.