Harding Tomb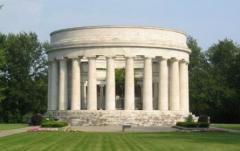 The monument, set in ten acres of landscaped grounds, is similar in appearance to a round Greek temple. The simple Doric features and spacious surroundings combine to create one of the most beautiful presidential memorials outside Washington, D. C.
Begun in 1926 and finished in the early winter of 1927, the structure is built of white marble. Designed by Henry Hornbostel, Eric Wood and Edward Mellon, the structure is 103' in diameter and 53' in height. The open design honors the Hardings' wishes that they be buried outside.
At their deaths, the bodies of the Hardings were entombed in the "receiving vault" of the Marion Cemetery. Once the Harding Memorial was completed in 1927, the bodies were reinterred in the Memorial's sarcophagus and it was sealed. The Harding Memorial was dedicated in 1931 by President Herbert Hoover.
The memorial is also important in American History because it is the last of the elaborate presidential tombs.