Harpers Ferry National Historic Park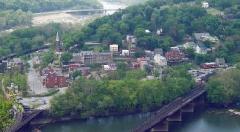 Stroll the site of John Brown's historic 1859 abolitionist raid, complete with museums and hiking trails.
A visit to this quaint, historic community, at the confluence of the Potomac and Shenandoah Rivers, is like stepping into the past. Stroll the picturesque streets, visit exhibits and museums, or hike our trails and battlefields. There's a wide variety of experiences for visitors of all ages, so come and discover Harpers Ferry.
In 1799, the U.S. government started construction on the Harpers Ferry Armory, one of two national armories that produced small armies for the armed forces. The armory expanded to meet the needs of the government, and the B&O Railroad built a station to link Harpers Ferry to major American cities. By the time of Brown's raid, Harpers Ferry was flourishing, but the raid and the Civil War devastated the armory and the town. After the Civil War, Reverend Nathan Brackett established Storer College in Harpers Ferry to help educate freed slaves, and the College later served as the meeting place for the Niagara Movement, an early Civil Rights movement organized by W.E.B. DuBois.