Hendrick I. Lott House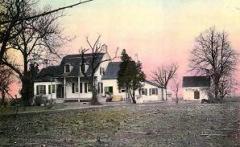 The Lott House, as it is presently configured, was constructed in 1800 by Hendrick I. Lott in the then town of Flatlands in Kings County New York. The house incorporates the circa 1720 house of Hendrick's grandfather Colonel Johannes H. Lott. The Lott House was the center of a large and active farm in Flatlands. In fact the Lott farm continued to produced good for market until circa 1925. At one time Flatlands was the second largest agricultural producer in the region, second only to Queens County.
In 1989 the last Lott to live in the house, Miss Ella Suydam, passed away. Soon after the City awarded the Lott House landmark status and protection. In 2002 Miss Suydam's estate sold the Lott House and property to the City of New York.