Henry Morrison Flagler Museum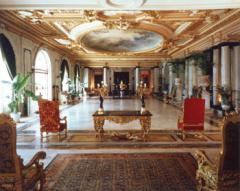 The Henry Morrison Flagler Museum traces Florida's complex 19th-century development through the life of the railroad tycoon who transformed it from a backwater province to a high-class travel destination. During the early 19th century, Florida lay beyond the reach of U.S. settlement. Although Europeans landed in Florida prior to anywhere else in what would later be the continental United States, thick forests and a malarial climate prevented long-term colonies from arising.
Even after the founding of the United States, the peninsula was left largely to the Native American tribes that had inhabited the area for centuries, such as the Seminoles. While wars between U.S. Americans and the Seminoles in the 1830s brought a degree of white influence into the region, it was not until Henry Morrison Flagler extended the long fingers of his transportation empire down the peninsula's east coast that Florida came to resemble the state we know today.
Although Flagler made his name as a founder, along with John D. Rockefeller, of Standard Oil, by the mid-1880s he had largely abandoned the company's day-to-day operations in order to develop Florida's hotel and transportation infrastructure. In 1895 he extended his Florida East Coast Railway to Miami's Biscayne Bay, which fueled a population explosion in the area and effectively gave birth to the now-thriving tourist destination.
In 1902 Flagler completed work on his 55-room Palm Beach house-museum, which he called Whitehall. By filling the building with priceless artifacts, he intended it testify to human possibility and the American character. Today, it houses a museum that chronicles his life, achievements, and the society that he helped build.
Visitors to the Flagler Museum have a choice of three tour options: a narrated audio tour, a self-guide brochure (available in English, French, German and Spanish), or a Docent-led tour (available twice daily at 11:00 a.m. and 2:00 p.m. Tuesday through Saturday, and 12:30 p.m. and 2:30 p.m. on Sundays).
In addition to touring Whitehall, during the fall and winter months visitors may explore the Flagler Museum's changing exhibition gallery which features temporary exhibits on topics related to Florida history and America's Gilded Age.
There are also permanent exhibits on the history of Henry Flagler's life and career and the Museum's extensive lace collection. The Flagler Kenan Pavilion, designed in the style of a 19th century Beaux Arts railway palace, houses Henry Flagler's private railcar, No. 91, and is open to visitors year round.