Heritage Village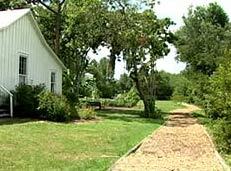 Heritage Village, Pinellas County's 21-acre living history museum, is located in the heart of Pinellas County. The natural pine and palmetto landscape is home to some of Pinellas County's most historic buildings. First opened to the public in 1977, Heritage Village is funded in its operations by the Board of County Commissioners and supported in its activities by the Pinellas County Historical Society and other community groups. More than 28 structures and features fill the Village, some dating back to the mid- to late- 19th century.
The Village includes a school, church, railroad depot, sponge warehouse and general store as well as a variety of historic homes. The homes range from the McMullen-Coachman Log Cabin, the oldest existing structure in the County, to the magnificent Queen Anne-style House of Seven Gables.
The Visitor Center features galleries showcasing local history and items from the permanent collection. "Pinellas Passport: Your Ticket through Time" illustrates the growth and development of Pinellas County with displays about agriculture, coastal living, community life and tourism. "Quick and Easy: Gadgets for the Home" presents a fun look at the labor saving devices used by "mo20dern housewives" to tackle pesky domestic chores. Christopher Still Prints: Clues to Florida's History and Natural Beauty: This is a print collection of the artist's murals that were commissioned by the Florida House of Representatives. The prints are filled with clues and details that speak to Florida's history, many of which can be found in the buildings at Heritage Village, in the Pinellas Room. The Heritage Village Archives & Library is home to 3,500 books and periodicals plus historic photographs, maps, special collections and other materials relating to the history of Pinellas County.