Herr Family Homestead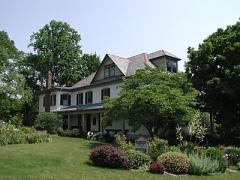 The original 92 acre property was owned by members of the Herr family since 1844. Although the date stone on the house reads 1852, there is evidence that the north side of the house was erected earlier. The first family member to reside there was Henry Herr, who was a descendent of Hans Herr, one of Lancaster's earliest settlers. Henry Herr and his wife Elizabeth raised 6 children at the homestead and eventually their son, Amos B. Herr took over farming the property and raising tobacco. Amos and his wife, Emma made major renovations to the house in 1913. They had one child, Amos Rohrer Herr who began managing the property in 1926 upon the death of his father. When Amos R. Herr's beloved wife Ethel passed away in 1964, he gave a portion of the 55-acre tract to East Hempfield Township. Amos R. Herr lived at the farm until his death in 1987 when the remaining acreage was formally turned over to East Hempfield Township with the stipulation that the land be used for public good.
When the Herr Homestead was a working farm from 1844 until 1987 most of the area encircling the house and barn was covered with either vegetable gardens or flower gardens, extensions of the Pennsylvania German influence that emphasized neat and orderly surroundings. Sweet potatoes grew behind the barn, while vegetables were kept east of the house. The Herr family also cultivated tobacco in what is now the conservation area. Today, a number of garden enthusiasts maintain beds of multi-variety perennials, day lilies, hostas, and ferns. Early June sees the blossoming of 15 varieties of rose bushes, many of which date back to the 1600s.
Today, the house is managed by the Herr House Foundation to "maintain and preserve the history and traditions of the greater Hempfield area." They hold community-wide events like lecture series and a country fair.