Historic Huguenot Street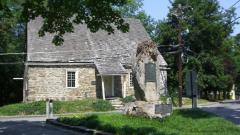 In 1678, a small but brave group of French-speaking Huguenot refugees from what is today southern Belgium and northern France set out to create a community of their own … and so began an American Story that continues today.
Their search led them to the Esopus Indians, with whom they negotiated the purchase of 40,000 acres in what we know as New York's Mid-Hudson Valley. This final stop on their journey they named New Paltz. Here on the banks of the Wallkill River in the shadow of the Shawangunk Mountains, they toiled and their families thrived. Around the community they started, a special and diverse village grew.