Historic Pensacola Village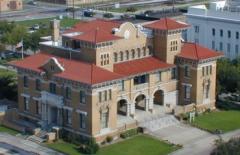 Managed by West Florida Historic Preservation Inc., the Historic Pensacola Village includes museums, historic buildings, and an archaeological trail. It provides excellent opportunities to learn about 400 years of history in one of Florida's oldest cities.
The T.T. Wentworth, Jr. Florida State Museum displays artifacts from the two wrecks of ships from the De Luna Expedition of 1559, the first European attempt to establish a colony in North America.
The historic buildings that populate the Village, including the 1832 Old Christ Church and the 1871 Dorr House, testify to the city's architectural and cultural heritage, while a number of other museums, including the Pensacola Museum of Industry and the Pensacola Museum of Commerce, fill in the details of life in historic Pensacola.
The historic Pensacola Village and the T.T. Wentworth, Jr. Florida State Museum allow you to step back through nearly 450 years of history as you explore Pensacola history and heritage. Discover Pensacola home-life through the years and experience Spanish frontier Pensacola to the genteel Victorian era. At Historic Pensacola Village, entertaining and knowledgeable guides lead guests through historic homes filled with authentic period pieces. See the 1832 Old Christ Church, one of the oldest church buildings in Florida, known for its architecture and preservation.
Tours of the 1805 Lavalle House, 1871 Dorr House, 1832 Old Christ Church, and the 1890 Lear-Rocheblave occur daily. Explore the natural resources, industries, and deep-water port that tied Pensacola to world markets in the Museum of Industry. Peek into quaint shops on the wooden sidewalk or climb aboard the trolley in the Museum of Commerce, a recreated 1800s downtown Pensacola streetscape. Visit the "Roaring Twenties" of Pensacola in the Manuel Barrios Cottage and find the beginnings of our technological world. West Florida's early African American heritage is displayed in Julee Cottage, highlighting our rich and fascinating multi-cultural history.
Discover a virtual treasure trove of historical artifacts, Americana, and captivating exhibits at the T. T. Wentworth, Jr. Florida State Museum. Originally built in 1907 as City Hall, this magnificent Spanish Revival building now houses and displays portions of T. T. Wentworth, Jr.'s vast collection. It all began at the age of seven, when a young T. T. Wentworth, Jr. found a small gold coin on the beach. The Discovery Gallery, our hands-on children's exhibit, is a special interactive space for our young visitors. This exhibit gives early elementary age children a chance to learn about history through exploration and play, making for a great family-time opportunity.