Historic Smithfield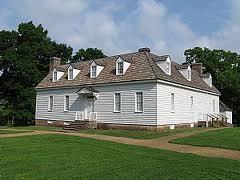 Established by Revolutionary war patriot, William Preston, this plantation later became the social and political center of the county.
On the eve of the American Revolution, the Virginia backcountry was a place of colliding cultures, clashing ideals, and physical danger. Europeans and native Shawnee and Cherokee vied for the same fertile farmlands, often erupting into murderous violence. It was at the eastern continental divide, the literal edge of European/American civilization, that the leader of westward expansion and Revolutionary War patriot William Preston established Smithfield Plantation. In a land of log cabins and physical hardship, Smithfield provided a haven of aristocratic elegance and unity within the county. More than 225 years later, the home still stands as a cultural center to the surrounding community. The Kenmore Plantation stayed within the Preston family for centuries, continuing to serve the state, and even filled three governor's seats and several other political positions. 
Smithfield was first opened to the public in 1964, and today is a living document of the past, a testimony to the bravery and devotion to country of the Prestons who made it their home. Visitors can enjoy the costumed interpreters that conduct tours of the elegant house.