Historical Electronics Museum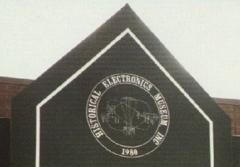 This museum showcases significant artifacts and literature throughout the history of the field of electronics. It emphasizes those electronics developed for national defense and traces such electronics to commercial products developed from them.
It continues to grow with the addition of new permanent outdoors exhibits and improved landscaping. Indoor gallery spaces are being redesigned and updated. Educational programming such as the Young Engineers and Scientists Seminars (YESS) and the Robot Festival are offered on a yearly basis with more to come. And the museum has established the Robert L. Dwight Science Scholarship awarded to outstanding engineering for the University of Maryland and University of Maryland - Baltimore County. Finally the Museum benefits greatly for the support of grants and donations from various agencies and engineering societies.