Historical Society Of Old Newbury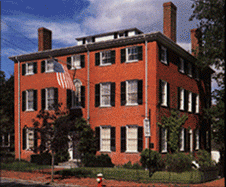 The Caleb Cushing House Museum houses the collection of the Historical Society of Old Newbury. The society dates back to 1877 and was organized for the purpose of the study and remembrance of Newbury's history.
Today the Cushing House offers visitors a trip into Newburyport's past. A fine collection of local furnishings graces its rooms. Unique pieces are featured throughout. The Oriental Room boasts fine early China trade decorative arts including four magnificent Chinese coastal Hong paintings. In the canopy bedroom stands a carved 17th century Dutch cradle and a three-sided crib.