History Museum Of Western Virginia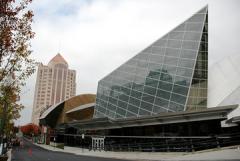 This Roanoke Valley history museum has an extensive and unique collection of artifacts.
This institution interprets 10,000 years of Roanoke Valley history with its large collection of Native American artifacts, including a rare example of Rawrenoke beads that gave the city its unusual name, and exhibits pertaining to early settlers, the Civil War, and World Wars I and II. Visitors are also invited to see the O. Winston Link Museum, which features Mr. Link's railroad photography, and Crystal Spring Pumping Station, the steam-driven water pump that served the city for more than 50 years.