Holland Land Office Museum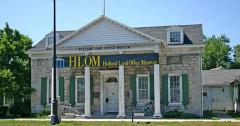 Before the territory could be opened up for settlement, it was necessary to obtain land rights from the Senecas. The Sullivan-Clinton Expedition, followed by the Big Tree Treaty of 1797, served this purpose. The Senecas retained 200,000 acres of land for a reservation. They also were to receive interest from federal stocks and bonds. The Holland Land Company hired a general agent, Theophile Cazenove, who was located in Philadelphia, to oversee land sale. In 1798, Joseph Ellicott was hired and he, along with his brother Benjamin and 130 men surveyed the purchase for the next three years at a total cost of $70,921.69 1/2.
In November of 1800, Paul Busti succeeded Cazenove as General Agent. Busti would serve in this role until his death in 1824. Busti appointed Joseph Ellicott resident agent and in January 1801, sale of land began at Asa Ransom's house in Clarence. The area was still part of Ontario County, which had levied high taxes on land. This combined with the distance settlers traveled to record deeds, led to the creation of a new county in 1802. The county, Genesee, was named from an Indian word meaning "beautiful valley."
Land sold for about $2.00 per acre and partial payment could be made by working on road or mill construction. Many immigrants and New Englanders took advantage of the opportunity offered, and cleared, settled, and developed the region that we call Genesee County. The first Batavia land office, a log cabin, was replaced by a frame building in about 1809. That building was then replaced by a fireproof building, completed in 1815, that still stands today as the Holland Land Office Museum. In 1894 the Holland Purchase Historical Society was formed to restore the building and maintain it as a museum.