Hubbard Museum Of The American West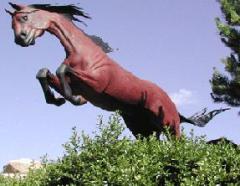 The mission of the Hubbard Museum of the American West is to collect, preserve and interpret the political, social, business, cultural, and environmental history of the American West from the period of human habitation to the present day, with special emphasis on the local and regional arts, history and culture. The Hubbard Museum will be a collaborative institution that provides exemplary public service for our patrons. Hubbard Museum programming, exhibits, and special events will seek to empower audiences to engage in a dialogue about the legacy of the American West and its continuing impact on American society.
R.D. and Joan Dale Hubbard founded the Hubbard Museum of the American West in 1992, then presented it to the City of Ruidoso Downs in 2005. It has grown from its original incredible collection of Anne C. Stradling's Museum of the Horse to being a truly first class historic Western museum.