Hudson Athens Lighthouse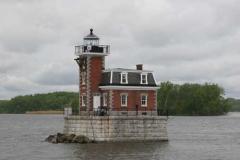 Construction was begun in early 1873, and the lighthouse was completed and put into operation on November 14, 1874. The facility served as a manned lighthouse until the 1950s at which time the lighthouse was automated and a named facility was no longer a necessity. Today, the Lighthouse still serves an aid to navigation, guiding ships safely around the Middle Ground Flats.
Since its opening, the Hudson-Athens Lighthouse has been operated and maintained by the United States Coast Guard. However, in 1967, then Governor, Nelson A. Rockefeller, established the Hudson River Valley Commission to explore possible uses for the Hudson River Lighthouses. The Commission recommended that the Coast Guard deed over or lease the facilities to public or not-for -profit groups. These groups would then rehabilitate, maintain and operate the facilities for public benefit.
Visitors can see the bunk in which the keeper once slept and examine modern navigational techniques used to guide ships around the dangerous shoals known as the Middle Ground Flats.