Hutchinson County Historical Museum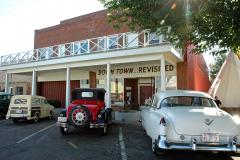 The Hutchinson County Museum is a regional history museum in the Texas Panhandle. Our stories are that of a wild Oil boomtown settled by Texas Rangers and National Guard after Martial Law was established. Prior to that were two Red River War battles at Adobe Walls in Hutchinson County between U.S. cavalrymen and Southern Plains Indians. The museum building, constructed in 1927 during the Texas oil boom, was dedicated in 1977, and it highlights Hutchinson County history from the prehistoric era to the present.
We are a professionally managed county museum and have a wide variety of exhibits and artifacts.