Ilanka Cultural Center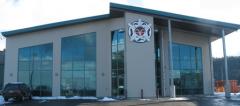 Opened in 2004, the Ilanka Cultural Center celebrates the history and culture of Native Alaskans. For generations Eyak, Alutiiq, Ahtna, and Tlingit peoples have lived in Cordova for its proximity to Prince William Sound and the mouth of the Copper River. The museum houses a collection of native art and artifacts from the prehistoric age to the modern day.
A unique element of the Ilanka Cultural Center is that it houses a complete orca skeleton, salvaged by the local community in 2000 from Hartney Bay. In addition, the cultural center contains a collection of hand-made kayaks, helping visitors compare kayaks from Siberia with those from Alaska.